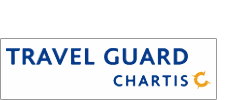 Free Range Aoudad Sheep Hunting
Aoudad Sheep also known as Barbary Sheep originated in the Atlas Mountains of North Africa along the Barbary Coast. In the early 1950's Aoudad Sheep were brought to West Texas by ranchers in an effort to establish a new big game hunting oppertunities. Aoudad Sheep have flourished in West Texas and are now found roaming in the rugged moutains of the Trans-Pecos region, which includes the Glass, Chinati and Davis Mountains. Hunting for the Aoudad Sheep is likely the best trophy sheep hunting value in the world.

"On all my hunts I felt like a member of a hunting party hunting with a group of old friends, not a client : that makes Desert Safaris special"
~Les McLaughlin~
Desert Safaris leases and oversees 260,000+ acres of private land utilized exclusively for free ranging Aoudad Sheep hunting in Texas on six different ranches in Presidio, Jeff Davis, and Brewster counties in West Texas. Without exception, this is some of the most premier free-ranging Aoudad Sheep habitat in Texas consisting of extremely rugged mountain country consistent with the native Barbary sheep habitat found in Northern Africa. I have had countless clients who have taken the grand slam of North American sheep and have commented that this Aoudad Sheep Hunting trip rivals the best of them. Free ranging mountain Aoudad Sheep hunting is within grasp of most clients' budget, yet giving the gratification of most other regional or international sheep hunts offered in today's hunting environment.
This unspoiled, vast terrain produces some of the best fair chase – free range Aoudad hunting in the lower 48. Come see how and why we are harvesting some of the largest free range Aoudad Sheep in Texas and are the most recognized in the industry. Our clients average 30" rams with nearly 100% success rates. This is one of the most underrated hunts in North America at a fraction of the cost of any other sheep hunt to be found anywhere in the world. Our sheep hunts have been featured on 6 television shows including Petersons Hunting, Jim Shockey's Hunting Adventures, LL Bean Guide to the Outdoors, Hunt Masters, Limbsaver Outdoors and Modern Arms Adventures in addition to over 30 magazine articles.

Give us a call and let us book you on the Aoudad Sheep hunting trip of a lifetime. Call or email for a current reference list or please feel free to call anytime to consult with us about physical preparation and limitations for this trip. Experience the free-ranging hunting difference - 100% fair chase mountain Aoudad Sheep hunting.
Aoudad Sheep Hunting Trip Includes: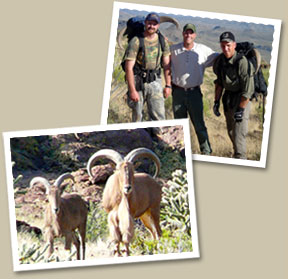 4 days Aoudad Sheep hunting
5 nights lodging
3 meals daily
2x1 guide service
Field care of sheep trophies
Carmen Mountain Whitetail Deer and Javelina may be taken on a trophy fee basis during this hunting trip
Not included in Aoudad Sheep hunting trip:
Alcoholic beverages
Texas Hunting Licenses
Gratuities
Airport Pickup
Expediting of sheep trophies
Aoudad Sheep Hunting Clients arriving by commercial air service will fly into El Paso or Midland, Texas depending on sheep hunt location and drive to camp (2-4 hr drive).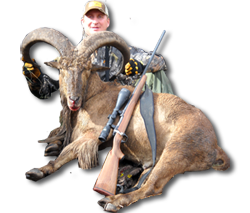 "Abundant game correlated with spectacular scenery and great camaraderie made my aoudad sheep hunt more than memorable with Desert Safaris. Thanks again."

Guy Eastman
Editor, Eastman's Hunting Journal