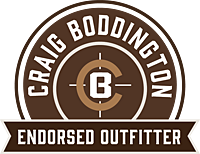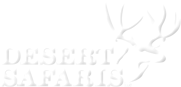 Free Range Aoudad Sheep Hunting in Texas
Native to the Barbary Coast and Atlas mountains of Northern Africa, aoudad sheep, or what some people refer to as Barbary sheep, were originally introduced into Texas in the late 1950's in the Chinati and Glass mountains in the Western part of the state. Subsequent releases took place in the same general vicinity as well as Palo Duro canyon in the panhandle region. Biologists who theorized this species would do well in the Texas environment were correct, and today there are over 15,000 free ranging aoudads spreading across several different eco-areas of Texas.

"On all my hunts I felt like a member of a hunting party hunting with a group of old friends, not a client : that makes Desert Safaris special"
~Les McLaughlin~
Aoudad sheep are unique bovids in that they have the anatomical traits that are consistent with both sheep, as well as goats. They are suited for hot, arid climates and can survive on little to no natural water resources as they obtain the majority of moisture for a heavy diet of succulent cactus species found in the areas we hunt. Their wary behavior, combined with incredible eyesight, as well as an amazing ability for adaptation gives the aoudad recognition they deserve as the most challenging species we hunt anywhere.
With over 290,000 acres of private ranches leased exclusively for facilitation of our sheep hunts, we have access to the most elite free range aoudad sheep habitat in Texas to offer our hunting clients. These 6 free-range ranches are located in Jeff Davis, Presidio and Brewster counties of West Texas situated in the Chinati and Davis mountain ranges. Hunts are based from well-appointed lodges with all modern amenities located on site in extremely scenic settings. Elevations varying from 4000-7500' make these hunts a true sheep hunters delight and possibly one of the best sheep hunting values found on the hunting market today. We have had countless clients who have taken the grand slam of North American and have commented that our aoudad sheep hunts rivals any of these bighorn species. Free range aoudad sheep hunting is within grasp of most client budgets, yet giving the gratification of most other regional or international sheep hunts offered in today's hunting environment.

This is not a hunt for the meek and mild, and clients are well served to be in good physical shape to increase their chances of getting on a mature ram. Desert Safaris guides are some of the best in the industry and widely recognized for effort and production the past 20 years on our sheep hunts. Hunters must stay focused and patient as we have to comb tens of thousands of acres typically in extreme conditions trying to locate a target ram and getting into position to finish the deal with typical shot distances being in the 200-350 yd range. Most rams we harvest are in the 29" to 32" range ( 10-12 years old) with multiple monsters taken annually stretching the tape in excess of 34".\
Aoudad or "Barbary " sheep being a non-indigenous species to Texas and thus no regulated season so we can facilitate these hunts year round with the fall and winter months typically being the best timing. Licenses are guaranteed for non-residents at a minimal cost of $48.00 and there is not a draw or application process for this species. Hunts are conducted on an exclusive basis meaning whether one individual or multiple persons in a party books you are only ones in camp giving you the most personalized attention and service for a more upscale hunting experience and highest success rate in the industry encroaching 100%. Clients will fly into El Paso or Midland, Texas where they will rent a vehicle and make a 2-4 hr drive depending on hunt area.
Aoudad Sheep Hunting Trip Includes: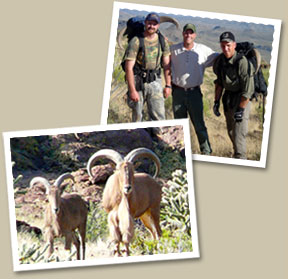 4 days hunting
5 nights lodging
3 meals daily
2x1 guide or 1x1 guide for additional upgrade
Field care of trophies
Javelina may be added on a trophy fee basis
Not included in Aoudad Sheep hunting trip:
Alcoholic beverages
Texas Hunting Licenses
Gratuities
Airport Pickup
Expediting of trophies hunting clients that arrive by commercial airline will fly into Midland or El Paso, TX depending on the sheep hunt location. There is a two to four hour drive from the airport to hunting camp.
"Abundant game correlated with spectacular scenery and great camaraderie made my aoudad sheep hunt more than memorable with Desert Safaris. Thanks again."

Guy Eastman
Editor, Eastman's Hunting Journal